Dimensions Lab in Holland Library digitally dimensional
Nowadays, many things are done digitally, and sufficient resources are needed to make this possible. But not everyone is financially able to afford such resources. Just as many students were frustrated about the cost of textbooks in the past, the same thing is happening with technology and digital resources. But WSU has a solution to this through the Dimensions Lab.
The Dimensions Lab is a donor supported facility located on the first floor of the Holland Library. Opened on Sept. 8, 2015, the lab provides various resources for WSU students, faculty, staff, and community members aimed at supporting people in the art, media, music, computer science, and engineering fields. But it is not limited to their use, as it is an open lab where anyone can walk in and use the resources.
The Dimensions Lab is not just a simple space with several desktops. There are diverse resources to aid students who need adequate tools to get creative but cannot afford fancy gadgets. The Dimensions Lab consists of 10 workstations, 4 Mac Minis, the Audio Lab, and the 3D Scanning Room.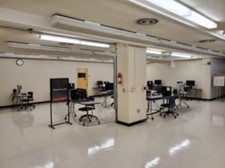 The workstations are where overall media creation can be done. The workstations, including the one with the scanner, are available on a first-come, first-served basis and are open during Holland Library hours. Anyone is welcome to walk in and use the workstations.
The Audio Lab is made specifically for music creation. The lab is available by reservation for up to 4 hours on Monday-Saturday. The lab can be checked out once in a seven-day period, and sessions can be booked up to two weeks in advance. The Audio Lab includes the Whisper Room isolation booth and a workstation with additional resources. As you can see, the Audio Lab has a high-spec desktop PC along with several top-notch gadgets in a beautiful setup. It is almost the dream workstation for people in the music field. Students are welcome to use the Audio Lab after making a reservation.
The 3D Scanning Room is made for photography and 3D graphics. This is a very interesting space, as patrons can not only take pictures of objects with the DSLR cameras, but they can also convert objects into 3D graphics programs and use them for media creation.
The Dimensions Lab has many programs available for free, some of which require paid licenses for personal usage. Along with basic browser programs, the lab has Adobe Creative Cloud, Microsoft Office, 3DS Max, Maya, Mudbox, R, Praat, Blender, SuperCollider, ArcMap, QGIS, NVDA, VLC, Handbrake, Reaper, Reality Capture, SPSS, and NI Komplete 12.
The WSU Libraries Systems Department staffs the Dimensions Lab with student workers on Monday–Friday, 9 a.m.–5 p.m. Lab assistants are available to assist people with lab usage. When assistants are working, there is a "Staff Available" sign in the lab.
There are many similar facilities at different universities across the country, but two factors make the WSU Dimensions Lab one of a kind. First, the Systems Department seeks constant improvements and new equipment for the lab through the Student Technology Fee. If students need specific equipment and it is not already there, WSU will work to supply it. Second, as Pullman is a relatively safe place compared to other cities, students and the whole community are welcome to walk in and use it. Many other universities make such facilities only available for students through reservations or even make them pay to use them.
Yaegun Kim, a sophomore majoring in computer science, said the Dimensions Lab is a wonderful place to work on coursework and personal projects. He wants to become a computer graphics artist after he graduates, and the Dimensions Lab is full of resources relevant to both his major and career path. Kim said his favorite aspect of the Dimensions Lab is the 3D scanning room. He is working on several personal projects that incorporate real-world objects by converting them into 3D graphics. And as the gadgets needed to do this are expensive, the 3D scanning room is what makes his personal projects possible.
A junior majoring in fine arts, Lauren Lee said she uses the Dimensions Lab often. She is planning to become a character designer and mostly uses digital devices to draw. Lee said the Dimensions Lab is a great place to use programs such as Adobe Illustrator and Photoshop, which are paid license programs and relevant to her major and career.
Even for people who are not in computer-related majors, the Dimensions Lab is great for certain coursework or personal use, as it provides various resources that are applicable to diverse fields.