Welcome to the Washington State University Libraries! If you need more guidance, please go to the full "How Do I…?" page to find tutorials and answers to frequently asked questions!
---
Navigate the WSU Libraries
WSU Pullman is home to three separate libraries. Holland & Terrell Libraries are two connected buildings (connected to the Compton Union Building) with a beautiful atrium at the entrance, access to the roof of Terrell, and several notable works of art around and within the buildings. Owen Science and Engineering Library is our tallest library and it has a bear in the lobby. The Animal Health Library has several computers and a Huddle Station you can use!

Learn more about navigating Pullman's three libraries.
Find Books on the Shelf
We organize our books with call numbers. We mostly use the Library of Congress classification system, but also use the Dewey Decimal organization. To find books with a call number in Holland and Terrell, use our Find it on the shelf tool.

For more help, read the full tutorial on finding books on the shelf
Use Search It
Search It is where you can find every type of material — books, DVDs, journal articles, dissertations, and many more — the Libraries have access to. We have a search input box on our homepage, or you can bookmark Search It directly. Be sure to sign in to make requests! Read the full Search It tutorial, or go explore what it has to offer!
Use Your Library Accounts
Keeping track of the items you have checked out has never been easier! All items you have checked out will be shown in your Search It account, but you need to use your Interlibrary Loan account to renew items received through that system.

Read the full tutorial on using your library accounts.
Get Help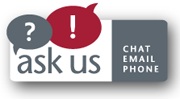 If you need additional help, whether it's with research or getting oriented to the Library, you can always talk to a librarian — in person, on the phone, or even via live chat — we're here to help you. You can set up an appointment with a librarian who specializes in your subject of study.