Political science librarian makes a difference in student research, collection development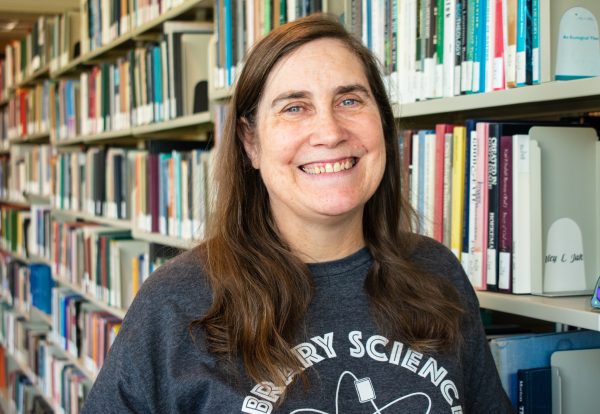 Flying home to Corvallis, Ore., from a political news panel at WSU's Foley Institute, Lorena O'English had an epiphany.
She realized she had a passion for connecting people with knowledge — it was what made her tick.
Years after receiving a question about accessing political information at the panel, she joined WSU Libraries on Nov. 1, 2000, becoming the university's social sciences librarian. In 2017, she also took on the role of government information librarian.
"Most of the time, the differences I make, I'm never going to see," she said. "It's somebody finding the perfect book in the collection or using a database that provided them with exactly the information they needed … I'm never going to see those things, but I can hope that they're there."
O'English said working with students and researchers is the most meaningful part of her job, especially when it comes to Zotero, a reference management program where students can save their articles, annotate them, and store them for years to come.
When O'English graduated from her own master's program in library and information science in 1999, she realized she had massive stacks of binders and printed articles she threw away and never looked through again because it was so tedious.
"If you use a reference management program … when you leave WSU, [your research] is not old printouts scrawled all over or folders you never look at," she said. "It's a database of you."
Graduate students are expected to use literature from their first years in the program for qualifying exams. Storing articles and their personal notes on an organized platform helped students be better prepared for their tests without starting from scratch, and they have approached O'English on the bus or in the library to tell her as much.
"Sometimes you go a whole week or two weeks and you don't have an interaction where you feel like you've made a difference in somebody's life. Then somebody tells you something like that," she said. "That is so powerful and so affirming."
O'English said many people do not realize how valuable government information is within research. While her subject areas focus on political science, sociology, criminal justice, sports studies, and philosophy, they overlap with many other disciplines.
Even documents like the census, which "may sound kind of dull," provide statistics on educational attainment, languages spoken in households, and other demographic information revealing the background of individuals in the United States, she said. The library also subscribes to the PolicyMap database, where students can overlay statistics over a map to visualize data and how they are distributed across the country.
To develop her collections of documents, comics, music, and books, O'English searches for materials that are relevant to faculty and students' studies and research needs in the departments she works with, that are well reviewed, and that are diverse in thought or authorship.
"For me, collection development is 24/7, 365 [days of the year]," she said. "Everything I read, I'm always looking for new books I think I'd buy for the library."
O'English said her phone is filled with screenshots of books and articles she found "in the wild" from X, formerly known as Twitter, or scholarly journals.
She also looks for graphic novels and popular books that may spark students' interest in reading, said Humanities Librarian Erin Hvizdak. Not every student feels comfortable jumping into scholarly journal articles right away, and lighter reads can provide students with a stepping stone, a leisurely break, or a form of representation.
"A scholarly book might be about diverse identities, but students don't necessarily see themselves in that," Hvizdak said. "With the other books, they see themselves, and they're like, 'Hey, I'm a part of this library, so I'm going to feel more comfortable coming into this library.'"
WSU's limited space and funding mean O'English is always aware that purchasing books is a big commitment. She said she builds on the collection not only for current students and faculty, but also for those in the future.
This fall, O'English said she is looking forward to launching Constitution Week at the WSU Libraries. In mid-September, members of the WSU and Pullman communities will do a round-robin reading of the Constitution aloud in the Terrell Library atrium for about an hour and set up a station where students can read the document on their own. They can mark where they stopped reading, allowing another student to pick up where they left off.
O'English said she hopes there will be enough people in attendance to read the Constitution twice in the atrium, and she is not afraid to volunteer passersby.
"I literally have dragged people in the atrium to the podium to read it, so don't walk by me in the atrium on that day," she said with a laugh.
Although the Constitution does have many issues, including the fact that women and underrepresented groups were not involved in its creation, O'English said it is still moving to read.
"As you sit there reading it, you think, 'Oh the Constitution, it's so dry,' but you're seeing a country being created," she said. "Then you see the country fall apart. Then you see the country try to rebuild. You see a country try to get better."