The Cream of the Crop: National Dairy Month Highlights WSU Creamery Journey
In honor of National Dairy Month, we head down memory lane to the good ol' days to highlight Pullman's creamy treasure.
Washington State University Creamery initially focused on producing milk and ice cream products for university dining halls. However, during the summer months, when students were gone, the Creamery faced the challenge of avoiding milk wastage. As a solution, the Creamery embarked on a new venture: cheese production.
WSU then started sourcing its milk from a commercial dairy at a more affordable price. This allowed the Creamery to seize the opportunity to produce cheese year-round, thereby generating revenue to support its operations and fund vital research endeavors for the university. This pivotal moment marked a turning point for the Creamery, propelling it towards a brighter, tastier future.
Each year, the Creamery churns out an astonishing 250,000 cans of cheese, with a staggering 80 percent dedicated to the iconic Cougar Gold variety. Additional flavors, such as Natural Cheddar, Smoky Cheddar, and Viking, grace the Creamery's diverse lineup. For those seeking a bolder culinary adventure, Ferdinand's extends its repertoire to include cheese curds, tantalizingly flavored with options like Ghost Pepper and Garlic Dill.
The realm of ice cream is no exception, with flavors evolving over time, ranging from classic favorites to unconventional delights like lemon custard and licorice. Today, customers have crowned "Cougar Tracks" as their cherished favorite, featuring a velvety vanilla base entwined with fudge swirls and peanut butter cups.
In 1992, the Creamery bid farewell to its former home in Troy Hall, finding a new space within the walls of the Food Quality Building. The original Ferdinand's murals moved as well and are on display in the Food Quality Building's front entrance. The Creamery's relocation not only provided students with valuable work experience, but also served as an ideal setting to showcase the Creamery's delectable offerings.
At the WSU Creamery, upholding the esteemed reputation of Cougar cheeses and Ferdinand's ice cream is a matter of utmost pride. With a steadfast commitment to excellence, the Creamery strives to provide the highest quality products while delivering exceptional customer service. Each purchase from the Creamery contributes to the support of student employees, affording them competitive wages and invaluable hands-on work experience. Moreover, a portion of the revenue generated is reinvested in the Food Science programs, directly benefiting the students involved.
The burning question lingers: why cheese in a can? In the 1930s, the WSU Creamery embarked on a quest to discover the optimal storage method for cheese—one that would preserve its integrity and protect it from contamination. Thus, the fabled Cougar Gold was born. Encased within tins, this extraordinary cheese possesses an extraordinary trait—it can endure indefinitely. As the cheese ages within its container, its flavor profile deepens, intensifying in both taste and sharpness. "Crisp, sweet, savory, vibrant, and surprisingly moist—thank you, can-aging," said Laura Werlin, an ardent Cougar fan, as she shared her recipe incorporating the aged canned cheese on Instagram.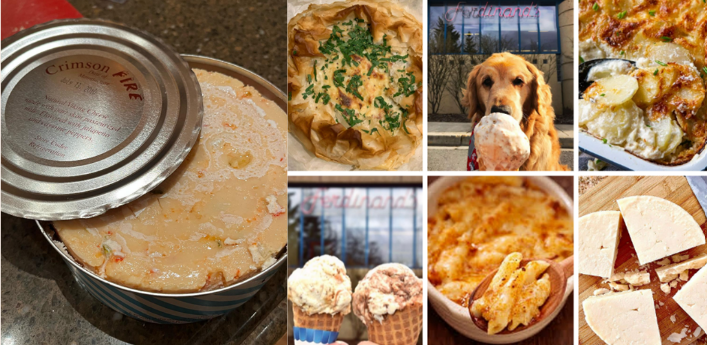 Additionally, the WSU Creamery generously offers an extensive array of delectable dessert and meal recipes on its website, ensuring that fans of its products can explore and indulge in a plethora of culinary delights, from Traditional Cheese Fondue to the legendary Classic Baked Macaroni and Cheese. These recipes showcase the creative palates of WSU's biggest Cougar fans.
Thanks to the WSU Historic Photos Facebook group, WSU Libraries captured and shared the stories and experiences of the WSU Cougar family, who have been devoted patrons of Ferdinand's since 1948. Several longtime customers reflected on their memories of the beloved shop.
Reminiscing on Sweet Moments
Richard L. Johnson recently revisited the ice cream parlor, continuing a tradition that spans over six decades. This time, he indulged in the iconic Cougar Gold cheese, paired with a delightful ice cream lunch. The simple act of revisiting the parlor brought back a flood of memories.
Johnson reminisced about his time working on campus in the early 1970s, where milkshakes were often enjoyed during afternoon breaks. Any flavor was acceptable, except for mint, according to his personal preference.
"We used to drive there during driver's ed with Mr. Holmes. Best days ever," said Rick Daugherty. He fondly recalled the times when he and his classmates would visit Ferdinand's during their driver's education lessons, the best pit stop.
"Who didn't love Ferdinand's? [I have] memories of excitement while watching them scoop my ice cream cone. My dad's office was in Wilson Hall… It was a super treat to go down around the corner to Ferdinand's," Carol Graham Jones said.
J. Michael Short, who grew up in Pullman, considered a visit to Ferdinand's in Troy Hall a special treat. He had a particular fondness for the butter brickle ice cream and a double chocolate malted shake. These delectable treats were among his favorites during those years.
Jan Larse Williams chimed in, saying, "We would leave Pullman High School during our free period for milkshakes. I loved 'The Story of Ferdinand' painted on the walls!"
Robert and Judy Weeks expressed their love for peanut butter chocolate milkshakes: "We had to save our money to buy them; it was a real treat . We were on campus for grad school from 1983-85."
Sarah Frame English shared her evolving preferences as a Ferdinand's customer. As a student, she always opted for cookie-dough ice cream, but as an alum, she switched to mint chip. She didn't know why she made the change, but regardless, any flavor from Ferdinand's was deemed fabulous in her book.
In September, the WSU Creamery will celebrate its 75th anniversary. This momentous occasion adds another layer of joy to the National Dairy Month celebration, honoring the creamery's legacy and contributions towards WSU research. Let's raise our spoons and toast WSU Creamery for crafting exceptional products.