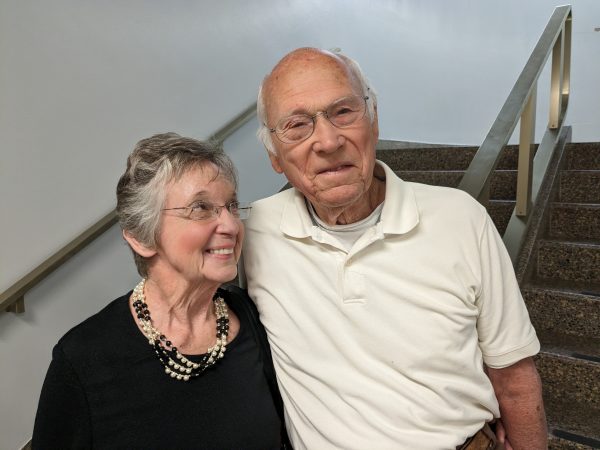 Paula and Harold Hochstatter couldn't help but feel God's hand was in everything.
The hand most certainly nudged Harold away from the U.S. Army when he got an "early out" to come back to WSU in the spring of 1961.
The hand also might have pushed Paula to the third floor of Holland Library, where she sat studying at a big table one day because "studying didn't come real easy" to her, and she had to work hard for her general studies degree.
That day, Harold walked past her table, did a double take, and quickly walked back into the library's stacks. He "screwed [his] courage up," took a seat at Paula's table, and – after what seemed like a "nervous half hour" – asked her to go for a Coca-Cola in the Compton Union Building.
Two years later, they were married.
"When I married that woman, my whole world changed," Harold said.
The couple visited WSU for the first time since 1964 on April 28 and said they were in awe of it all, noticing new buildings and the absence of ones that have long since been torn down. After visiting Holland Library, they also stopped by the Community Congregational United Church of Christ, where they married on Nov. 23, 1963.
It was the day after former President John F. Kennedy was shot, and Paula said she remembers standing in Todd Hall when it happened, watching everyone gasping in shock.
On their wedding day, Paula was pregnant, which she said was difficult on her family, growing up as a "small-town, farmer girl." However, her parents were supportive, and so was the church's pastor, who said he did not believe in marrying just anyone who was pregnant at the time.
"He said … 'You guys are going to make it.' Harold and I have hung onto those words," Paula said. "Divorce was never going to be a part of our vocabulary."
Following the wedding, the couple moved into married student housing near Dissmore's and off of Stadium Way until Harold graduated in 1964 with a general studies degree.
Harold said he was always a "rotten student," flunking out of college in 1958 before heading to Central Washington University and later volunteering for the draft in Yakima.
In a 1964 graduation photograph, Harold was even seen running across the infield toward his little sister, who called him to say he was on WSU's deficiency list, he said. Harold spoke with his adviser, who had said his grades were fine to finish college, wondering what they would say to the Academic Standing Committee.
His adviser said, "I'll think of something," and Harold graduated by the skin of his teeth.
After Harold was married, his grades were the best they had ever been, Paula said. People certainly gave Harold a hard time for marrying a dedicated student like Paula.
"They'd say, 'What's she marrying you for?'" Harold said.
On top of taking 21 credits her first years of college, Paula balanced three jobs, including waitressing at the McCroskey Hall dining facility and cleaning bathrooms on the weekends.
She recalled the dorm hosting candlelight dinners on Thursdays, where about six students ate at each table, and women announced their engagements. Paula said McCroskey Hall had only one phone per floor at the time, meaning whoever's room was closest to the phone would respond and page the other girls if they had a call coming in, which made dating interesting.
Paula also found the process of registering for classes just as quirky. At Hollingbery Fieldhouse, students visited their counselors, then stood in line for each class in Bohler Gym.
"Often, by the time you got to the head of the line, the class would be filled, so then you had to go back to your counselor and start all over again," she said. "It was quite an ordeal."
While living in McCroskey Hall and pursuing her degree, Paula said she experienced culture shock and learned to interact with people she never would have otherwise met in her past life.
She grew up 20 miles south of Grand Coulee Dam, graduating in the top of her class of eight people. She initially wanted to pursue a degree in English to follow in the footsteps of her high school teacher she admired, but she eventually changed her major to general studies.
Similarly, Harold grew up in Moses Lake, a town with a population of 300 at the time, where the couple now resides near their five children, 19 grandchildren, and six – almost seven – great-grandchildren.
When their youngest child was in kindergarten, Paula said she began volunteer tutoring in school to carry on her dream of teaching. Harold took over his father's electrical company and also served in the Washington State Legislature, becoming a representative for two years and a senator for 10 years.
"He was upfront on what he believed in, and he stood for it. He was respected for it," Paula said.
The couple is now celebrating nearly 60 years together and cherishing their "good days" after Harold's diagnosis of terminal, metastatic bone cancer, Paula said.
"He just feels like God is giving him this time now to share his gospel message with as many people as possible," she said.
Did you and your partner meet at the WSU Libraries? Contact Lipi Turner-Rahman at ilipi@wsu.edu to share your story!