March Memories, Unlocking WSU Archived Photographs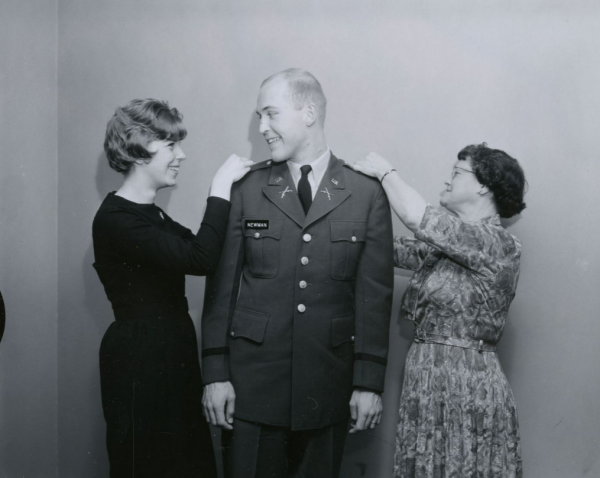 What happens when we stumble upon an old photograph that we have never seen before? This is precisely what happened to the Newman family when they discovered a photograph of their beloved husband and father, Wyatt Newman, on the WSU Manuscripts, Archives, and Special Collections website.
"We did not have this picture, so it was a very precious find," Wyatt's wife and WSU alumna Nancy Newman said. "I never thought that WSU's digitizing program would bring such a gift to me."
To their delight, the program identified the photograph as being taken at the ROTC graduation ceremony on Jan. 29, 1965. This was a momentous occasion for Wyatt and his family, as he was being promoted to second lieutenant, and they were about to leave for Fort Benning, Ga. With this information, the McGee family could attach a story to the photograph, giving it even more meaning.
"Wyatt was also active in WSU Alumni, and at one point he was the OR director of the WSU alumni group," Newman explained about her late husband. "He was a Cougar through and through. Our homes have always reflected this, plus many trips to Pullman for football games."
WSU Libraries post old photos in a Throwback Thursday series to their Facebook group titled "WSU Historic Photos" in hopes that former students will come forward and identify one another or give more information on the backstory of photographs. These efforts contribute significantly to the preservation of WSU's history and connect students to their past.
WSU preserves its history through its impressive Terrell Library. Named in honor of former WSU President Glenn Terrell, who was known for his connection with students, the library has become a cornerstone of the university's academic experience. The library boasts an impressive collection of books, digital archives, and other resources, making it a vital part of many students' time at WSU.
The Terrell Library is an important landmark of campus, and the work done there is just as vital to the Cougar community. For the Newman family, this photograph has become a treasure. It has given them a glimpse into their past, allowing them to relive a special moment in their lives. But it also serves as a reminder of the importance of identifying old photos. Without the help of WSU's digitizing program and their own memories, this photograph would have remained a mystery forever. Instead, it has become a cherished family heirloom, a reminder of the people they used to be and the experiences they had.
In recent years, the university has taken significant steps towards identifying past students in archival photos, a task made possible by donations from alumni. These contributions ensure that the legacy of WSU is cherished and remembered by future generations.
Take a deep dive into the digital archives. You may find yourself in a few of the dissertations, yearbooks, student newspapers, and other documents captured from WSU presidents, employees, departments, and colleges. A good starting point would be to search the years you attended WSU and be sure to include clubs, sports, or associations you were affiliated with.
A picture is worth a thousand words, but memories are priceless.
Support unlocking memories at Terrell Library by donating to the Glenn Terrell Endowment for Excellence during CougsGive '23. Your gift will help provide crucial funding in several areas, including identifying people in the archives.