Notable women in WSU women's basketball history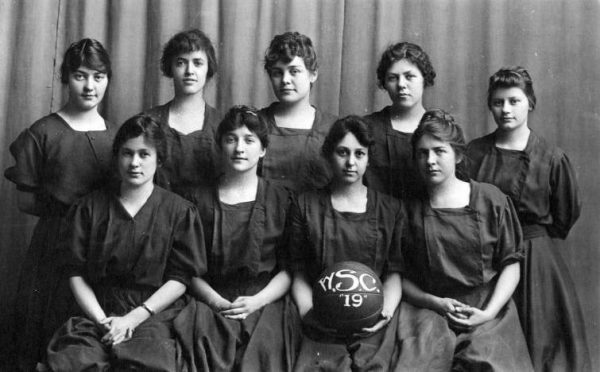 For the first time in program history, the WSU women's basketball team captured its first PAC-12 Championship title against UCLA with a close score of 65-61.
For much of its history, the WSU women's basketball program has not received the attention it deserves. Since WSU head coach Camille Ethridge has taken the lead, she has guided her team to reach new heights. The WSU women's basketball team win marked WSU's first PAC-12 title in any women's team sport. A conference title hasn't been claimed for Cougar basketball since 1941 when the men's team won the championship.
Over the years, many women contributed to and elevated WSU women's basketball's presence.
Hall of Famer Jeanne Eggart Helfer is known for setting school records and scoring 1,967 points during her four-year career. Eggart Helfer achieved all-conference first-team honoree status four times and an all-region all-star three times. Between her sophomore and junior seasons, Eggart Helfer tried out for the 1980 U.S. Olympic Track and Field team but was eliminated when she finished fourth in the javelin at the Olympic Trials. Eggart Helfer is in the Inland Northwest Sports Hall of Fame as a coach and the Washington Interscholastic Activities Association Hall of Fame as an athlete.
Another notable woman for Cougar basketball is WSU Hall of Famer Jenni Ruff, who earned four varsity letters from 1992-1996 with the Cougars. Ruff was named Honorable Mention All-America by the Associated Press, All-District VIII by the Women's Basketball Coaches Association, and First Team All-Pac-10 Conference. Ruff finished her career scoring 1,526 points. Ruff is one of two players (Jeanne Eggart Helfer) in WWB history to record over 1,000 points, 600 rebounds, and 300 assists.
In 2020, Borislava Hristova, led by current head coach Camille Ethridge, became WSU's All-Time Leading Scorer in a 96-75 victory against the University of California at Berkeley. Hristova broke Eggart Helfer's career record of 1,967 points.
"I am very honored to have my name next to some of the greatest players that have played here at WSU. This record was broken by a village of people, and I am thankful to all the coaches and every teammate I have had throughout my time as a Coug. Thank you to all of these people that helped make this possible," Hristova said.
The victory against Cal in 2020 marked Ethridge's 100th career victory as a head coach. In her fifth season as WSU head coach, Ethridge's tenacity led the program to set a new record for total wins in a season, ending 23‑10. This season, Ethridge was named the 2022-2023 National Coach of the Year by The Athletic, and she is recognized as the first coach in program history to be awarded the honor by a national publication.
Anything is possible for Cougars. To celebrate Women's History Month, we recognize these women who have made great strides in the WSU women's basketball program for their achievements, dedication, and commitment.