An interface provided by the company Third Iron, BrowZine allows patrons to browse and stay current with the electronic journals in their academic fields. BrowZine provides multiple entry points to connect with scholarly materials, including: via the BrowZine web and mobile applications and from within Search It.
How do I use BrowZine?
Go directly to the Web Version of WSU Libraries BrowZine: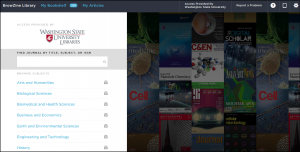 Or, download the mobile application from the App Store, Google Play or Amazon. When you open BrowZine for the first time, you'll see a list of schools – select Washington State University, then enter your NetID and password.
Or, access BrowZine from within Search It by clicking on the View Issue Contents link: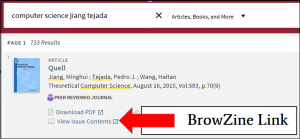 What journals and articles are included in BrowZine?
BrowZine has agreements with these academic publishers, so all journals in that group, with all articles published since 2005 should be available. Please note that WSU Libraries does license additional journals; for the full list, please go to our eJournals Browse option in Search It. 
Can BrowZine export citations?
Yes! You can easily export citations from BrowZine to Zotero, Mendeley, BibTex, RefWorks, Endnote, and RIS.
Find more information and tutorials about BrowZine at Third Iron's Help for BrowZine Users page.