Explore Libraries' National Day of Racial Healing Library Guide, Exhibit
Coinciding with WSU's first observance of the National Day of Racial Healing (NDoRH) on Jan. 17, WSU Libraries have created an accompanying book exhibit in the Terrell Library display case, running through January. The exhibit focuses on self-care, mindfulness, and love as acts of nonviolent resistance to oppression, and their role in racial healing, according to Humanities Librarian Erin Hvizdak, exhibit co-curator with WSU animal sciences student Janai Johnson. The book selection and theme were curated with Trymaine Gaither, WSU special assistant to the provost for inclusive excellence.
"To heal and move forward from racial trauma can be a heavy process that is psychologically, physically, and emotionally draining," Johnson and Hvizdak explained. "Cultivating healthy habits that encourage personal growth, happiness, and care are key to promoting healing in all areas of life, especially areas that can be challenging to heal from. The authors highlighted in the exhibit encourage us to find the strength to heal in a variety of ways."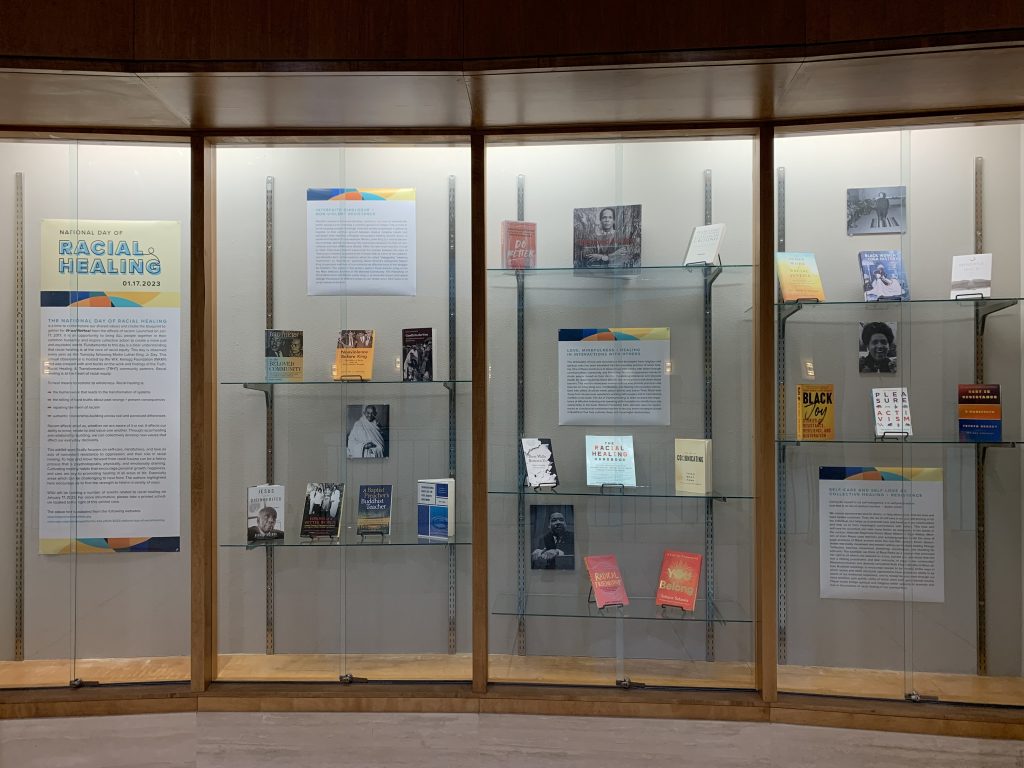 In addition to the physical book exhibit, Online Learning Librarian Jen Saulnier Lange created a virtual representation of the exhibit, with links to the Libraries' resources so that anyone, regardless of campus or location, can view it and check out the materials. The library guide also includes subject-specific teaching and research resources meant to help instructors find easily accessible materials on racial healing that can be incorporated into the classroom.
"The resources in this library guide were compiled by subject librarians and will serve as a living document, with intentions to add and update as needed in the future," Saulnier Lange said.
Section 1: Interfaith dialogue, nonviolent resistance, and racial healing
Martin Luther King Jr.'s road to becoming a minister led him to discover the connection between his form of nonviolence and that of Mahatma Gandhi. King was inspired by the overlap between the idea of "loving your enemies," practiced in the Christian faith as a form of nonviolence, and Gandhi's form of nonviolence, which he called satyagraha, meaning "truth-force" or "love-force."
"Learning about Gandhi's satyagraha helped King to perceive methods of nonviolence as effective tools in the struggle for freedom," Johnson and Hvizdak wrote. "The books in this section explore these themes using works like Marc Andrus's 'Brothers in the Beloved Community: The Friendship of Thich Nhat Hanh and Martin Luther King Jr.' to show the impact and radical change that people of different religions can create when their focus is on unity instead of division."
Section 2: Love, mindfulness, and healing in interactions with others
The philosophy of love and nonviolence that developed from religious and spiritual unity has been translated into the everyday practice of racial healing. One of these practices is to focus on our interactions with others through communication, community, and friendship. Structural oppression serves to divide people based on their identity, threatening emotional and physical health.
"By reaching across these divides, we can begin to break down these barriers," Johnson and Hvizdak wrote. "This section showcases several authors who provide practices and theories on integrating love, mindfulness, and healing into everyday interactions with others."
Section 3: Self-care and self-love as collective healing and resistance
The act of self-care is not just self-serving or for the individual. It also helps to promote love and healing in our communities and to form meaningful connections with others, Johnson and Hvizdak wrote. This love and care for ourselves can take many forms, as expressed in the books in this section.
For example, historian Stephanie Evans' "Black Women's Yoga History: Memoirs of Inner Peace" uses memoirs and autobiographies to tell the story of yoga practices of Black women since the mid-19th century. Evans demonstrates that bodily movement and memoir writing can facilitate healing through "reflection, exercise, movement, stretching, visualization, and chanting for self-care."