Reception Dec. 18: Library Duo Kay and Lou Vyhnanek Retire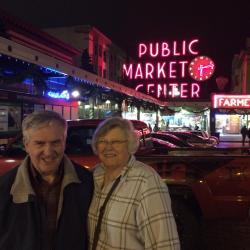 With a combined 65 years of service to WSU Libraries, husband and wife Lou and Kay Vyhnanek will retire Friday, Dec. 19. A reception will be 3-5 p.m. Thursday, Dec. 18, in Terrell Library atrium.
At WSU's 10th annual Employee Recognition Reception on Dec. 10, the couple joined more than 560 staff and faculty celebrating a length-of-service milestone in 2014 – hers for 35 years, his for 30.
"We appreciate and recognize their many contributions to the libraries, to WSU and to the profession," said libraries dean Jay Starratt. "Kay helped the libraries broaden access to scholarly research through her work on the WSU Research Exchange, a digital repository for WSU research.
"Lou forged strong relationships within WSU's Department of History as an associated professional historian and liaison librarian, instructing generations of WSU students in the process," Starratt said. "Both also devoted considerable time and effort to the American Library Association, particularly its Reference and User Services Association."
For the full story, please visit https://news.wsu.edu/2014/12/17/reception-dec-18-library-duo-kay-and-lou….