General Description
The Historical Photograph Collections consist of nearly a half million images, primarily photographic prints, slides, and negatives. The collections range in date from the third quarter of the 19th century to the late 20th, and offer a wealth of visual documentation for the study of ethnic history and human and material culture in terms of the campus, the city of Pullman, the Palouse region, the Inland Empire and, more generally, the Pacific Northwest. Some of the earliest images of Washington State University are found in the
William Barkhuff Collection
1892-1921; Barkhuff enrolled at WSU on opening day in 1892. The
Charles R. Pratsch Collection
documents the towns of Aberdeen, Hoquiam, and Grays Harbor (Washington), from their earliest times and also contains some 64 portraits of Quinault Indians. The collection is a valuable resource for tracing the effects of erosion along the Pacific Coast, as well as the results of logging. Images from the
McWhorter Collection
provide visual documentation of the Nez Perce and Yakima Indians.
Lucullus V. McWhorter
assembled an impressive collection of images, including portraits and images of battle grounds, to illustrate his books and pamphlets concerning the plight of Native Americans. Born in Indiana on February 24, 1862, Frank Fuller Avery later became associated with the Colville Indian Agency. From 1898 to 1916 Avery worked in a number of capacities, first as superintendent of the Indian Boarding School at Fort Spokane, and then as inspector of Colville Indian Agency Day Schools. Photonegatives from the Colville Indian Agency, were taken between 1901-1916 when Avery was assigned to the Colville Indian Agency. The images record agency headquarters and personnel, along with numerous photographs of Colville Indian farmers and school children. Some
800 photographs from the Avery Collection
may be viewed online as a one of an expanding group of
Digital Collections.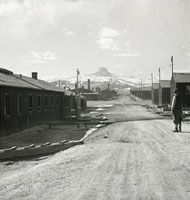 The
George and Frank C. Hirahara Collection
is considered the largest private collection of photos depicting life in the Japanese American incarceration camp at Heart Mountain Wyoming. This collection contains over 2000 images taken and processed from January 1943 to November 1945. George Hirahara and his son Frank captured images of camp life and special family milestones such as engagement celebrations, weddings, and family portraits. To view the digital images of the Hirahara photographs, please visit the
George and Frank C. Hirahara Photograph Collection
. Some 1800 photographic prints depicting pioneer life in Okanogan County, Washington, including scenes of work and entertainment, comprise the
Frank S. Matsura Collection
. Matsura arrived in the United States from Japan in 1905, settling briefly in Seattle before crossing the Cascades to take a job at the Elliot Hotel in Conconully, Washington, as a handyman. In 1907 he moved to Okanogan, Washington, and opened a photography studio, which he operated until his death from tuberculosis in 1913 at the age of 32. To view over 1,200 digital images of Matsura's photographs, please visit the
Frank S. Matsura Image Collection
. The
Photographs of E. R. Murrow
, 1909-1964, includes over 100 photographs spanning Murrow's life, from boyhood scenes to college, and through his career with CBS.
Online photographs of the University Presidents
are available for viewing, with many more physical ones in PC 4, the WSU Historic Photographs Subject File.  For information on campus history, visit our online guide to
WSU buildings
.
Collection Guides
Collection Guides (also called Finding aids) is the generic term for various guides, inventories, registers, lists and indexes that describe items or the parts within individual manuscript/photograph collections. These Collection Guides provide an overview of our photographic collections in varying degrees of descriptive detail. The following list is dynamic and will be extended systematically over time.
A-G
H-L
M-P
R-Y
0-9
A
B
C
D
E
F
G
H
I
J
K
L
M
N
P
R
S
T
U
V
W
Y
Return to top
Collection Guides Organized by Subject
For user convenience, the following list of selected digitized collection guides has been arranged according to broad subject categories. This list will be expanded over time, as new archival finding aids are digitized and as new photographic collections are processed. Users should consult these guides for more detailed descriptions of collection contents.
Agriculture
Cities and Towns
Pullman, Washington
Environment
Native Americans
Railroads
Washington State University, WSU Faculty and Graduates
Washington Territory 1853-1889
---
Search MASC Photograph Collections: