First Women in Graduate Education at Washington State University

Washington's land-grant college, the Washington Agricultural College & School of Science (WAC & SS), opened its doors to individuals seeking preparatory educations and undergraduate degrees in January of 1892, and within the space of a single decade, expanded its curriculum to include programs of graduate study. The College's student body counted significant numbers of women within its ranks from its inception and, with their male counterparts, these students enthusiastically embraced the opportunity to earn both undergraduate and graduate degrees.
The first women to receive graduate degrees from the State College of Washington (so renamed in 1905) did so just five and six years after the college instituted its graduate school, and in so doing played an important role in the establishment of a rich tradition of women in graduate education that continues at Washington State University to the present day.
Josephine M. Hoeppner entered the WAC & SS in 1898. She earned the Bachelor of Arts degree in 1902, held the office of Senior Class Secretary, and returned to the College a few years later to began graduate study in the foreign languages.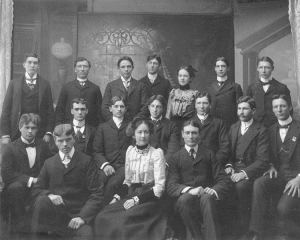 In 1908, Josephine Hoeppner became the first woman to earn a graduate degree from the State College after defending her Master's Thesis, "German, French and English Nomenclature in Chemistry, a Comparative Study." Following graduate school, Hoeppner taught German at both the State College and the University of Washington before relocating to the northern California community of Tuolomne, where she met her future husband, Clarence Woods. Woods' engineering pursuits took the couple to many exotic locations around the world, and in 1935 Hoeppner published an account of some of these in High Spots in the Andes. Peruvian Letters of a Mining Engineer's Wife.
In 1909, the year after Josephine Hoeppner received her graduate degree, Zella Elvira Bisbee earned a Master of Science degree in the study of Physics and Math after the successful defense of her thesis, "Interference Phenomena in Architectural Acoustics," co-authored with F.W. Moody. Bisbee entered the WAC & SS in 1899, and became involved with a number of the college's clubs and organizations; the Girls Drill Team and YWCA among them. She was the only women on the staff of the college newspaper, The Evergreen, during the 1902 and 1903 academic years, and in 1903 served as editor.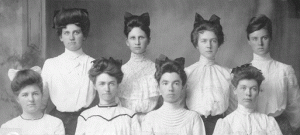 In June of 1904, Bisbee earned a Bachelor of Science degree in Physics and Math, and these interests led her into graduate study a few years later. She married fellow WAC & SS alum Alfred Dickey Butler, whose successful Spokane-based engineering career kept the family in the region and allowed Bisbee to maintain her ties with the College. These culminated in 1954 with her attendance at the Class of 1904's Golden Grad Celebration.
The State College conferred its first doctoral degree in 1929, and the first to a woman just five years later, in 1934. Elizabeth Margaret McKay earned a Bachelor of Science in Botany from the University of Washington in 1928 and entered the Master's Program at the State College that fall. McKay was an active member of the Botany Department throughout her graduate school years and, in addition to holding appointments as a teaching fellow, served as an Instructor during the 1929 and 1933 summer sessions.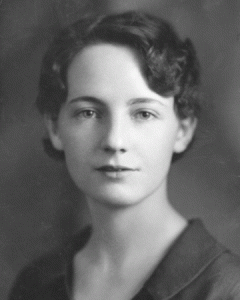 In June of 1930, McKay received her Master's Degree and began her doctoral studies. The Botany Department admitted her to doctoral candidacy in October of 1933, and on June 4, 1934, Elizabeth McKay defended her dissertation, "Salt Tolerance of Ruppia Maritima L. in Lakes of High Magnesium Sulphate Content," and thus became the first woman to earn a doctoral degree from the State College of Washington.
The ensuing decades have witnessed growing numbers of women involved in graduate work at Washington State University. This progress and these successes , however, should never be allowed to overshadow the accomplishments made by Hoeppner, Bisbee and McKay who, through their determination and resolve to fulfill their own educational goals, laid the foundation and set the ground rules for the women who continue to follow in their footsteps.
Sources Consulted:
Josephine Hoeppner Woods, High Spots in the Andes. Peruvian Letter of a Mining Engineer' Wife
(New York: G.P. Putnam's Sons, 1935.)
Commencement Programs, 1892-1954, WSU 86, Manuscripts, Archives and Special Collections (MASC), Holland Library, Washington State University, Pullman, WA
Butler Family Papers, 1890-1954, Cage 189, MASC.