Win the Victory: Early Days of Football at Washington State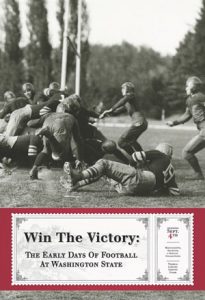 Win the Victory is an exhibit at the Washington State University Libraries' Manuscripts, Archives, and Special Collections (MASC), displaying artifacts from the early years of WSU football. The exhibit opened in September of 2009.
The exhibit is broken into seven primary components, each illustrated through a combination of photographs, movies, documents, and realia, all from the collections held at MASC. While specific links to more specific sets can be found below, many of the items displayed have been digitized and can be viewed through a search on football at MASC's digital collections.
1894-1914: The Early Years
On November 18th, 1894, Washington State (then Washington Agricultural College and School of Science, or WACSS) played against Idaho in its first official game, winning 10-0. The official rules would be hammered out over the next several years, but the game was simpler then, and the uniforms lighter. For the first decade or so, football was almost a club sport, and some games were held against regional high schools, athletic clubs, or military units; this was at least partially due to the school's location, as distant games would require long train trips. By about 1910, regular games against Oregon, Oregon State (then Oregon Agricultural College), and Washington were occurring, and Washington State (which had become first Washington Agricultural College, and later Washington State College) football slowly became a very big deal on campus and in the region, helped by the teams of 1906-1909 which went a combined 21-2-2.
The 1915 Season: Our First Rose Bowl
During the 1915 regular season, Washington State went an undefeated 6-0, outscoring its opponents 190-10, and was invited to the east vs. west game (later to be known as the Rose Bowl), played at Tournament Park in Los Angeles on January 1st. In conditions so rainy/muddy that officials briefly considered canceling the game, Washington State dominated the game and beat Brown 14-0. In these days before television and widespread radio, updates came through telegraphs, which were received avidly in Pullman. After the team finished from its four-day train trip back to Pullman from Pasadena, it was greeted by what the local paper declared as the "largest and most enthusiastic athletic demonstration in northwest history," with virtually the entire population of Pullman and the college turning out to greet their champions. Documents and photographs related to this season are available online, and game footage can be seen through the dropdown menu under "Film and Video" below.
The Middle Years: 1916-1929
After that Rose game, Washington State remained impressive and was asked about returning to the Roses in 1917 but declined due to the onset of World War I. After that and Spanish Influenza virtually cancelled the following season (two games were played), WSU came back as a quality team but would not win the championship of the new Pacific Coast Conference nor return to Pasadena until 1930-1931. The 20s saw the college's first African American player, the coming of Babe Hollingbery (still the school's winningest coach today), and more extensive travel as trains became faster and less expensive.
1930: Back to the Roses
Its line anchored by future NFL Hall of Famers Mel Hein and Turk Edwards, Washington State went an undefeated 9-0 in the 1930 regular season, outscoring its opponents 218-32, and was invited to its second Rose Bowl appearance on January 1st, 1931 against undefeated east coast powerhouse Alabama. Alabama's coach William Wallace Wade had played for Brown in their 1916 Rose Bowl loss to Washington State, and had his favored Crimson Tide ready for the Cougars. WSC lost 24-0. A selection of documents and photographs from this are available online.
Film and Video
In working towards this exhibit, MASC has digitized silent black and white coaching film from 18 different years of Washington State / Washington games (ranging from 1929 to 1978), encoded these as flash files, and made them, along with previously digitized film from the 1916 Rose Bowl game, available online. While the exhibit centered on a selection of higher quality films shown on a 48″ television, these and other football films, in versions sized for web viewing, can be seen through the link immediately below.
Online films: WSU Digital Football Films Collection
Soldier and Rogers Fields, and Martin Stadium
Through a selection of photographs and text, this section of the exhibit touches on the evolution of the football field from experimental beet field, to lakeside Soldier Field, to Rogers Field, and finally to Martin Stadium.
In their signature Pink and Blue, your WSU Warriors!
This overview of Washington State's mascot heritage tells of the migration of school colors from pink and blue to today's crimson and gray; of the team name from Farmers, to Warriors or Indians, to Cougars; and of the team mascots, from early canines and a hijacked bear, Toodles, to our Cougars, which have included a pair of stuffed animals on wheels, a succession of six live cougars (and their namesake, 5'3″ quarterback 'Butch' Meeker), and finally to today's costumed Butch.
Sources and Resources
An eighth and final case presents several of the books and videos documenting WSU's 115 year football history. Links presented here will take you not to the actual items (which are not viewable online), but to a library catalog whereby you can try to borrow these yourself if you like. Included here are:
---
Win the Victory was curated by University Archivist Mark O'English; invaluable technical and creative contributions were made by WSU student Shawn Willoughby, University of Idaho graduate student Tim Mace, Alex Merrill of WSU Libraries' Systems, and MASC's own conservator Jennifer Jouas and graphics designer Jeff Kuure.
The MASC collections from which came many of the above photographs, documents, and realia included: