Campaign Priorities: Spaces and Places
Creating Dynamic Environments
In the 2010–2011 school year, , WSU Libraries had more than 1.2 million visitors. Although library collections are increasingly available electronically, gate counts are rising because more and more members of the WSU community are coming to the libraries in person.
WSU Libraries and a Sense of Place
Welcoming Study Spaces
The Holland and Terrell Libraries (HaT) are now connected to the Compton Union Building (CUB), resulting in our students perceiving the CUB and HaT as a unified space. They pass back and forth between the buildings as they need different services and resources.
Productive Group Work Places
Today's businesses want employees who work efficiently and effectively in teams and who are able to create presentations which succinctly communicate processes, outcomes, and recommendations. In response, WSU Libraries have begun making upgrades to group study places and public spaces in order to provide additional and better opportunities for group work. The second floor of Owen Library and the Animal Health Library are being reconfigured as student study and collaboration spaces. Students seek computers, productivity software, and comfortable seating, and value these spaces for individual and group work in a safe and supportive setting.
Access to Scholarly Books, Journals and Digital Collections
WSU collections reflect the strong diversity of ideas and research generated by students. Faculty promote interdisciplinary linkages as students make connections between the work they do in one class and the books or articles they read for another. Beyond that, students recognize the libraries as places that are integral to their academic experience and essential to their daily lives.
A Creative Environment
The Libraries provide work and service environments that nurture creativity, productivity, and trust among staff and users of the Libraries' resources.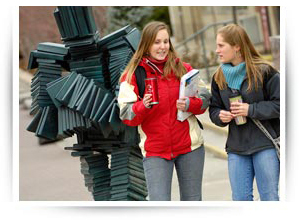 "A library is a bricks-and-mortar version of a poem:
all about structure and organization…
A library is a big, inclusive, magnificent poem."
Northwest poet Robert Wrigley
Multiple Locations
The WSU Libraries have three libraries on the Pullman campus, plus there are excellent libraries at the Spokane, Tri-Cities and Vancouver campuses.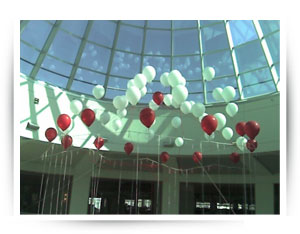 Campus Events and Exhibits
The Terrell Atrium is a popular place for campus events. These include club activities and concerts most Fridays during the academic year.
Students use the Atrium display case to promote activities, and new display space in the tunnel between the CUB and HaT provide some space for posters that students create showing their research using library sources. The Atrium is also used for undergraduate research poster sessions, student shows, art exhibits (see above picture), and more.

"We must remember the importance of library as place. Even though many resources are accessed via computer, students still need clean, quiet spaces for study and group work. They need physical places with ready access to texts and the expertise of librarians, where the focus is on learning."
Dr. Steve Hines, WSU College of Veterinary Medicine (and Henry)