Campaign Priorities: Information Literacy Education
Teaching Scholarly Excellence
Familiarity with computers does not translate directly to information literacy. The sheer flood of information available electronically creates as many challenges as it solves. Finding appropriate and meaningful information and then using it correctly to high academic standards is more challenging today than ever before.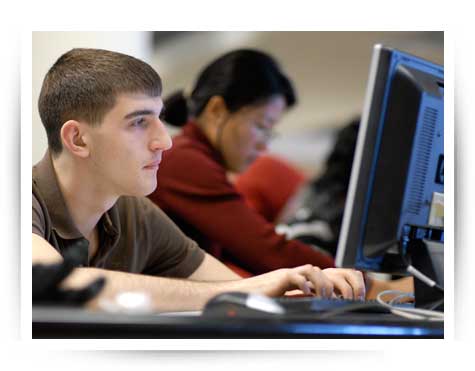 Studies show that professors overestimate student's abilities to locate, assess and legally use resources simply because they are digitally literate. In addition, students often misjudge their own searching and evaluating skills. When this is combined with mismanaged time, the results can be a poorly developed paper and a bibliography packed with open web sources which are neither authoritative nor appropriate for the assignment.
"It is daunting to try to find something on your own in the library. Just having a computer is not enough. The librarians worked with our professors in an integrated way to teach us how to use the electronic tools; otherwise I would not have known how to do it."
Francesca White, Senior student majoring in Genetics and Cell Biology
WSU Libraries - National Leaders in Information Literacy Education
WSU library faculty created an innovative collection of on-line tutorials in information literacy and they work closely with college faculty to customize and teach what is appropriate for a given class. It is a flexible option that can be tailored to develop skills which are not necessarily taught in the classroom setting, but which are often expected of the students as they complete their assignments.

"Nurses are put into positions that require efficient learning and critical thinking, and a consult is not always possible. We educate students to find critical resources needed to make decisions and to properly analyze that information."
Bob Pringle, Director of Nursing and WSU Spokane Academic Library Services
"You can get virtually any document online but who is going to work with the scholar in interpreting what they have as a consequence? What we must do, what we must do, is continue to emphasize the requirements associated with research and scholarship and it must be done in this digitally-based environment of which we are a part."
Elson S. Floyd, Ph.D., President of WSU, addressing the Association of College and Research Libraries conference, March 15, 2009