Campaign Priorities: Digital Library
Accessing the World's Knowledge
The WSU Libraries website is increasingly serving as the first point of contact for many patrons. Currently, WSU provides students and faculty with access to the full text of over 25,800 digital resources, including current journals, books, documents, and databases. In 2008, the WSU community accessed articles from more than 55,000 e-journals and downloaded more than 2,210,000 documents. We also host 75 digital collections that were created at the WSU Libraries which are now accessible to the world, not just to those able to travel to Pullman.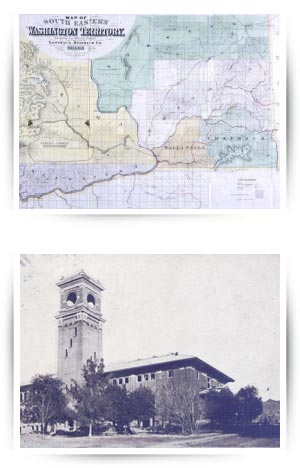 Key Collections
Early Washington Maps: More than 925 historic maps with links to high-resolution files; built in collaboration with the University of Washington Libraries.
City of Pullman and the Palouse Image Collection: Recently featured in the Internet Scout Report, this collection includes more than 1200 historical images of campus, Pullman, and the Palouse.
The Wallis and Marilyn Kimble Northwest History Database: Contains over 50,000 newspaper articles that were collected and organized in the late 1930s by WSU Historians as part of a Works Progress Administration (WPA) grant.
The Lucullus V. McWhorter Collection: 175 photographs of Native Americans digitized and described by WSU students as part of a collaborative seminar between The Libraries and the WSU History Department.
Palouse Digital Project: A variety of resources about the Palouse bioregion (documents, books, theses, photos, maps, reports, studies and surveys, oral histories, etc.) are being digitized for this collection.
"Digital collections permit the diffusion of cultural knowledge to a world audience well beyond the confines and restrictions of the archive."
Nathan Roberts, WSU Graduate Student, History
University Archives
The University Archives document the activities and history of Washington State University and the people associated with it. These archives include official documents and papers, published and unpublished records, printed resources, ephemera, theses and dissertations, and audio and visual materials. As part of the University Archives, the WSU Libraries hold a major collection of historic WSU coaching films, including 2,000 reels of basketball games, 2,550 reels of football films, and some 60 reels of track and field and other sports.

"The library centralizes stored information, knowledge, and culture and makes it accessible. Today, the Libraries provide electronic access to WSU's and other collections and worldwide research. They serve the entire university and its missions."
Tom Weingarten, BA 1968, President of Western Foil Corporation